Alteruna  will shortly release a new multiplayer solution for Unity. It is a platform- and application independent, scalable, high performance and packaged all-in-one solution for developing, deploying and running multiplayer applications. Keep an eye on www.alteruna.com.
Alteruna sees immersive technologies like VR and AR as frontrunners of new ways to interact with people. Advanced hand interaction will connect physical objects to virtual ones. Artificial intelligence (AI) will be the key to skills acquisition and assessment. Advanced multiplayer solutions will let anyone participate, from anywhere, using any device.
Our commitment
TeamSimulator is a training platform that bridges the gap between training needs and being able to train. We provide training at your fingertips, regardless where you are and what device and technology you use. We apply this solution to healthcare, to the industry and to society.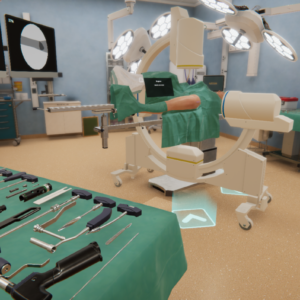 Immersive learning
This is an illustration of VR in Alteruna's TeamSimulator. The person in the video has been copied into the virtual surgery room to illustrate the sensation of being there. This is the fundamental quality of virtual reality. The user will be immersed in VR and interact with the objects and the avatars (users) there.
Resuscitate
Everyone should practice cardiopulmonary resuscitation (CPR), ie giving cardiac compressions, using defibrillators and blowing air into the lungs of a fellow human being with cardiac arrest. More and better training saves lives. We recreate cardiac arrest at home, at work or in the hospital. The manikin on the floor becomes a patient who reacts to the chest compressions and the defibrillator.
Safer Surgery
Alteruna has a vision of safer surgery and less harm to patients. Patients undergoing surgery should have faith in their surgeons and nurses. They should have confidence in them being well trained and able to provide the best care possible. The mission of Alteruna is to develop this software for training health care professionals.
Hand Interaction
Alteruna is developing an advanced physical hand interaction technology based on object detection and gesture recognition with machine learning. The user's own hands will continuously be tracked and rendered in their proper orientation, position and real-world scale. This allows for more exact interacting with virtual elements using hands only. Complex controllers that increase the learning curve will no longer be needed. The technology will allow for full body simulation and natural orientation in all our products. What is natural in the real world, feels natural in the virtual world.
INTERNATIONAL MEDTECH LICENSES TEAMSIMULATOR
Stryker AB, a subsidiary of the international medtech supplier Stryker, has licensed Alteruna's TeamSimulator. Hospitals in the four Nordic countries are using the training simulator for hip surgery training. It is procedural training for a trochantric fracture, a common trauma when elderly people fall. The simulator supports Stryker's Gamma3 implants and operative method.
MULTIPLAYER FOR THE METAVERSE
Alteruna has developed an engine independant and high performance multiplayer solution for real time applications. Anyone, anywhere, can participate in a multiplayer game, a meeting or a training session. The user can start or join the session from VR, from a web app and even from a web browser.
The Alteruna Team
The team behind Alteruna has deep knowledge in educational technology, virtual reality, game development, telecom, healthtech and artificial intelligence. This background is essential for creating a significantly enhanced user experience and a world class immersive training application.

©Copyright Alteruna AB 2022
Alteruna AB
Visiting adress:
Malmskillnadsgatan 32
Stockholm, Sweden